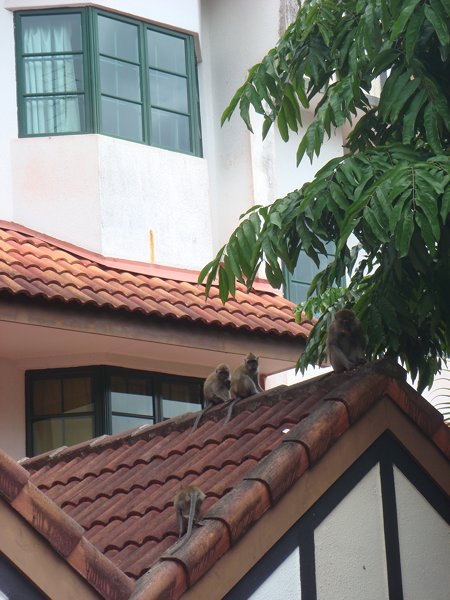 The Bukit Timah Nature Reserve is one of the last spots of Asia primary rain forest. It gives home to hundreds of plants, trees and animals and spreads over a waste territory of 164ha. The center of the reserve is Singapore highest hill (163m!). At the entrance of the park you will most probably encounter some long-tailed macaques begging for food. With a bit more of chance you could also observe one of the large monitor lizards or a flying lemur.
The origin of its name is puzzling; 'Bukit Timah' means 'tin hill' in Malay but the area was never a tin-producing one. It was better known to early colonials as a tiger-infested area which few dared to visit.
The reserve is a popular place for visitors having a stopover in Singapore to experience an "untouched" nature spot.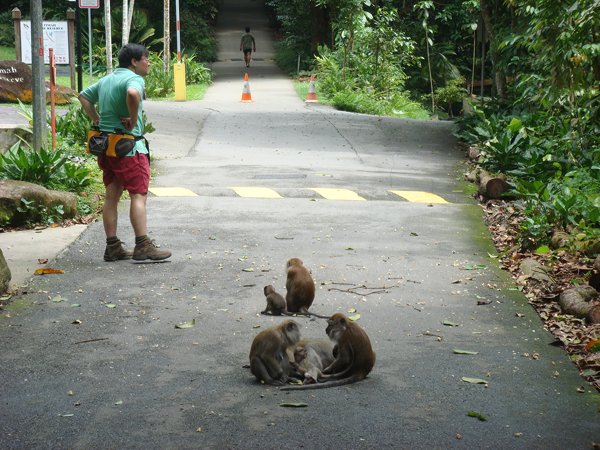 There are several hiking tracks (see the red, blue, yellow and green routes on high resolution map below) leading all to the top of the Bukit Timah hill. Partly the slope is very challenging. An alternative is the Kampong trail connecting the reserve to the MacRitchie reservoir.
The below track is officially not recommended for hiking and running, since it is designed for mountain biking. Thus, you'll need to choose the right time to run on it.
How to get there:

By public transport: There is no MRT station nearby, but some buses are stopping on Upper Bukit Timah road nearby.

By car: Take off Upper Bukit Timah road to Hindhede driv. Just next to the reserve entrance is a free parking lot which can be very crowded on weekends. The carpark is open from 5.30 am to 7.30 pm daily.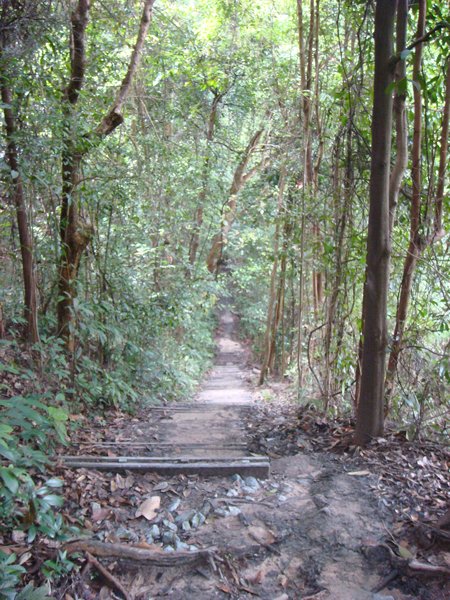 The track: 8.25km Start right at the entrance and follow the signs for the mountain bike trail. It leads all around the Bukit Timah hill and avoids the steep slope leading to the top. The overall distance is around 8.25km.
Water point: At the entrance there is a water fountain as long as some facilities.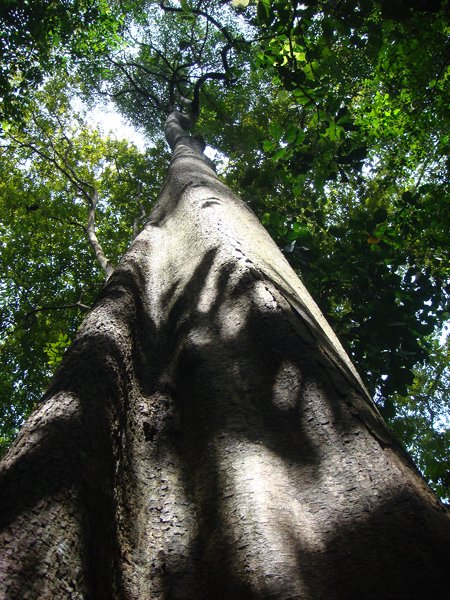 Google Maps: Bukit Timah Nature Reserve on Google Maps.
A high resolution map of Bukit Timah Nature Reserve.

Download the KML to display the track in Google Earth.