Camino de la Fuente de la Bicha
I tried this track when i spent i week of holidays in Granada. In two words: "Soooo hot!". First time i tried it, i started as usual at around 10 in the morning, big error. After only several kilometres, without nearly any shadow, i started melting in the sun... So if you want to run, the early in the morning or late in the night.
The track is in fact a small road leading along the river Genil from Granada to Pinos Genil , the nearest village in the east, towards the Sierra Nevada. The landscape is a true pleasure, when running, you have constantly the mountains with the snow caps in front of your eyes. The track is not very difficult to follow, just along the river, on either side of it.
How to get there: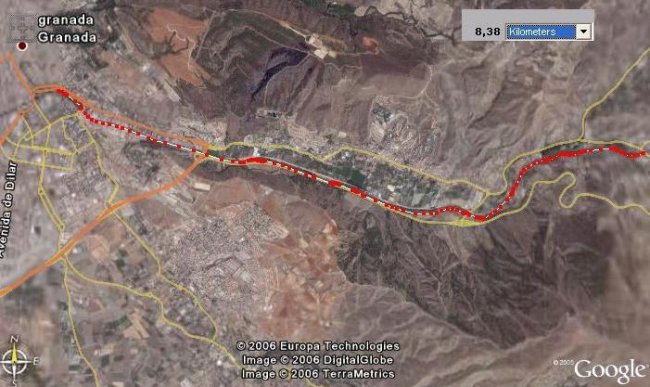 This is the overall track.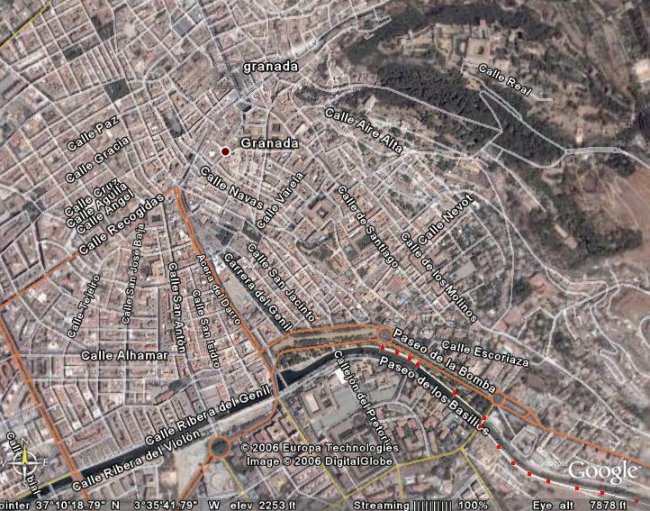 The map of Granada with the starting point at the Paseo de la Bomba.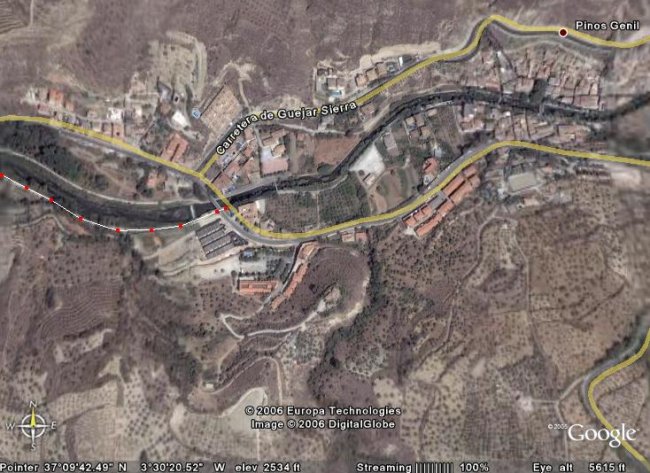 The finish at Pinos Genil. I tried to get further, but here the Sierra Nevada really starts and the track disappears in nowhere.
You start at the Puente Verde (The Green Bridge) crossing the river Genil, just at the end of the Paseo de la Bomba, which is a small urban park longing the river. You can run this part too, the Paseo starts near the super market Corte Ingles right in the town center. Once you finished up with the Paseo, cross the river at the Puente Verde and follow the track on the right river bank. The small road is named Camino de la Fuente de la Bicha, leading to Pinos Genil.
Coming from the Alhambra, there is a shortcut to avoid the City Center, but i've found it just once and then never again :)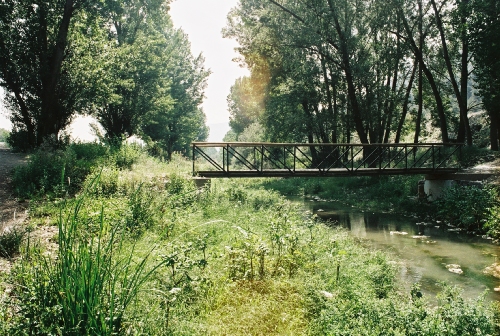 The track: The total length is about 8.9km long, going to Pinos Genil and back result then in 17.8km. Take care, especially in hot weather, as between Granada and Pinos, there is nearly no point to stop by and no transport to go back to Granada. The relief is essentially flat with few shadow.
Water point: There are two natural fountains on the track, the Fuente de Bicha at around 4 kilometers from Granada, on the right river bank. It is not indicated and you cannot see it from the track: when the expressway is going just above the track, use a small tunnel (graffiti on the walls) crossing under the expressway, and the take a small path on your right. Follow on around 100 meters and there you are. The water tastes really good!
The other fountain (i do not know its name) is at around 6 kilometers from Granada, and you can see it from the track.
Good to know: In Pinos there are some bars in a calm atmosphere on the river bank, good to relax before going back if you are tired :)